I just found this great contest... Its open to anyone that wants to enter. But, hurry it ends June 30th!
Here are the details:
Toilet Roll Mini Scrapbook Contest
Contest Ends 30 June, 2010.
Enter your upcycled toilet paper roll craft project for a chance to win one of our cool prizes.
First prize is a $50 gift voucher from the online scrapbooking store of your choice.
Second prize is a $20 gift voucher from the online scrapbooking store of your choice.
Random Draw Prize: For entries to win the random draw prize package filled with 3 mini albums, a chipboard alphabet, chipboard frames and canvas art pad, you can do the following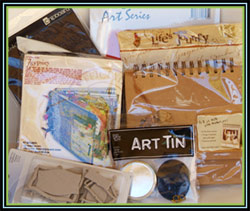 Random Draw Prize
Make a fun and easy mini album or craft project from your old rolls and you will not only be making a fabulous keepsake but you will also be doing something great for our planet by recycling. And if that is not enough you will also be eligible to win a cool prize for your efforts.
We encourage all levels of experience to join in the fun and create something fantastic. One of the easiest entry is to make a mini album. We have a
toilet tissue roll tutorial
that you can follow if you need some assistance to get you started. You might like to try making recipe books, mini photo books, tutorials, altered children's books, a themed mini book, teachers gifts, altered rolls.
If you're not sure if your labor of love qualifies as a mini album, drop me a line beforehand and I will let you know. You can take a look at the
current entries below
for some idea of what will qualify.
What you need to know
This competition is open to anyone anywhere and it ends June 30th 2010.
Each entry must be your own piece of work handmade by you.
There will be a maximum of two entries per person and each entry must include photos or scans of your mini (no greater than 100k in size please) Your mini will remain on scrapbook-crazy.com to inspire future visitors.
Entries will be judged on all round visual appeal and creativity.